California, a New Marijuana Safe-haven?
California legalized medical marijuana in 1996, becoming the first state ever to do so. Proposition 215, while riddled with holes and problems, effectively legalized medical cannabis. However, it wasn't until nearly 6 years later that many of said holes in proposition 215 were addressed. California Senate Bill 420 was signed into effect by Governor Gray Davis in 2003. Said bill eliminated much previous confusion by introducing medical ID cards for patients. This gave many cops the assurance they needed to walk away from a medical patient they might have otherwise harassed. Creating ID cards was just one of the many issues SB420 solved in the California medical system.
With state medical laws more clearly defined, there were fewer issues with state officials. However, marijuana is still classified as a schedule one drug by the federal government and after state medical legalization it wasn't long before federal crackdowns and raids began. One such raid happened in the summer of 2016 in Santa Rosa, coordinated by local police and the DEA (Drug Enforcement Administration). The raid targeted Care By Design and AbsoluteXtracts, companies that manufacture medical cannabis oil in precise dosages. Among the buildings raided were a laboratory, nursery, and multiple residences.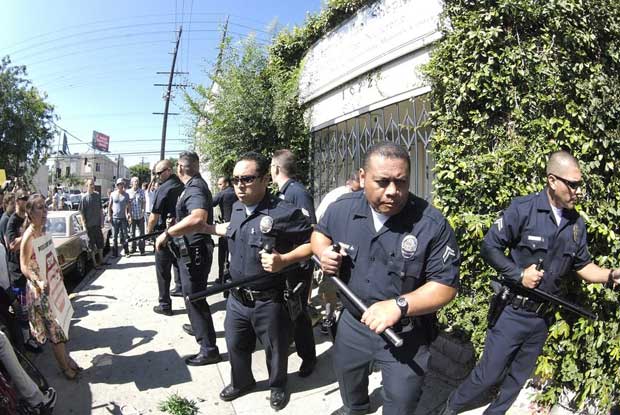 This is just one example of numerous raids that have happened over the past 20 years in California since medical legalization. However, many local pro-pot politicians, want to reduce the number of federal raids in the golden state. Even with proposition 64 passing last November legalizing recreational marijuana, the state still needed something more to prevent federal interference. Introduced in February of 2017 by Reggie Jones-Sawyer, representative of the 59th district in south LA, Assembly Bill 1578 would help thwart any federal agents looking to make crackdowns in California. Dale Gieringer, the state coordinator for NORML, told LA Weekly, "This is the equivalent of noncooperation on deportation and environmental laws, part of the larger California resistance to federal intrusion."
If passed AB 1578 would effectively bar all local and state agencies from using local resources such as money, facilities, and personnel from assisting federal agents in marijuana crackdowns. The only exception to this is if said agencies were served with a court order. Local and state officials would be prohibited from helping federal agents "investigate, detain, report, or arrest" any person who is involved with the commercial or non-commercial marijuana industry. So long as they are complying with all state law that is.
Local authorities would also be prohibited from giving away personal information of persons who applied for a commercial grow license to any federal agencies. The bill's first hearing will be held in the Assembly's committee for public safety (of which Reggie Jones-Sawyer is the chair) on April 18th. With a democratic majority in both houses, the bill is expected to pass.
With many recreationally legal states considering the possibilities of federal crackdowns, California isn't the only state to look at preventative legislation. Oregon legislatures are looking into a bill that would help protect its residents who legally obtain marijuana. As is, when you buy recreational cannabis in Oregon you must give the dispensary your personal information. However, the suggested bill would force dispensaries to delete said information within 48 hours of obtaining it. In addition to this, it would make sharing the information illegal.
Only time will tell how the federal government under president Trump will react to state marijuana industries.